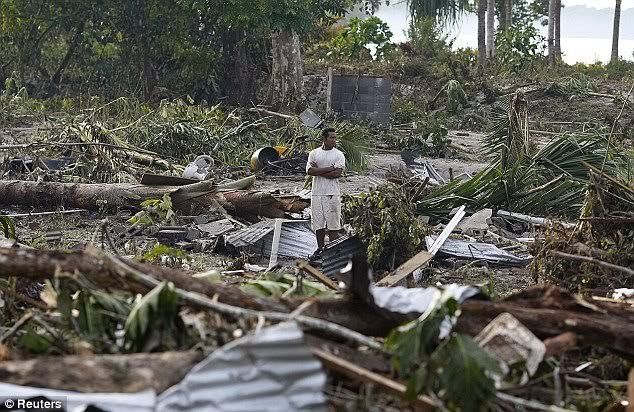 Mentawai Earthquake and Merapi erupts Related?
Geodesy experts from ITB spoke about the two disasters that occur almost simultaneously.
Thursday, October 28, 2010, 06:05 GMT
Arfi Bambani Amri, Mohamed Adam
Eruption of Mount Merapi in Yogyakarta on Tuesday, October 26, 2010 (Intermediate / Revelation Putro A)
RELATED NEWS


* Message Mbah Maridjan to Enda "Purple"

VIVAnews - Monday, October 25, 2010, at 21:42 pm, an earthquake measuring 7.2 on the Richter scale occurred in the southwest Pagai Island, Mentawai, West Sumatra.
A tsunami was born, hit the west coast islands in the largest district in West Sumatra.

Approximately 24 hours, on Tuesday, October 26, 2010 at 17:02 pm, the first eruption of Mount Merapi issued after the previous month expressed danger.
Eruptions produce hot cloud is then known to kill 29 people including Interpreter Lock Merapi, Mbah Maridjan.

Are these two natural events related to one another?

Geodesy Experts from Institut Teknologi Bandung, Hasanuddin Z Abidin, said the two events are far apart location.
According to him, is too speculative to conclude that there are two disasters linkages with one another.

"Too far. I think not the ties," said a phone conversation with Hassanudin in VIVAnews, Wednesday, October 27, 2010.

"Mentawai we know it from the first frequent earthquakes, while the activity of Merapi is there any cycle. After all the mountains are closer to the Mentawai such as in Padang alone, it showed no reaction to anything related to the Mentawai earthquake. So according to
I, too speculative when plugging. Probably just coincidence time was very close, "Hasanuddin said.

When asked whether there will be an even bigger quake in Mentawai after the devastating earthquake that occurred October 25 to 26 yesterday, Hasanuddin confirmed it could happen.
"That's normal, a place that has definitely been an earthquake happens next earthquake will occur again in the place. It's just when the time is a less predictable," he said.

Aftershock time variation is different, Hasanuddin added.
Could in a matter of hours, days, months, even years.

"Usually when a major earthquake, it will take a long time for an earthquake happens again. Mentawai his strength 7.2 Richter scale yesterday, including a large, well this will take time for another big quake.'s Why I do not think in the near future
This large earthquake will occur again, because he had to save energy in a long time, "Hasanuddin said.

Coastal Pagai, Mentawai Islands, the tsunami-stricken

Regions affected by the tsunami in Mentawai


Emphasis Mitigation

Hasanuddin said the most important in the handling of this disaster is mitigation.
"The government should have more care (care) with that disaster research in the upstream," he said.

Upstream research in question is that of early warning (early warning), studies the potential for disaster, or disaster identification.
"We are very weak in terms of early warning. In my opinion, the government is very less attention in disaster mitigation. I often gregetan," he said.

Properly if the government is serious about paying attention in disaster mitigation, disaster studies or research that there could be useful to predict when a disaster occurs and the extent to anticipate that there may be no great loss and casualties.
yak 502 orang masih belum ditemukan.
Hasanuddin also asked the government to incorporate disaster study as a priority concern.
"It's not disaster study make money, but that's important, because this disaster is a latent danger and impact is also costly (high cost). Indonesia is a common entrance area of the earthquake. Do not always be bothered to act after the incident," he said.
(Hs)