Lia Harahap - detikNews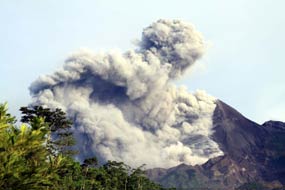 Jakarta
- Gunung Merap
Jakarta - Mount Merapi, was also stopped spewing the contents of his stomach.
Compared to the days usually, bursts are quite high.
I was so high, even look up to Solo, Central Java.

"It was around 07.30 pm I saw from the Bus Tirtonadi, bursts of heat clouds Merapi seen clearly in Solo," said Solo Sholdip citizen, told AFP on Thursday (11/04/2010).

Sholdip say it looks like a blob bursts that make up cedawan.

"Clumps of it like a giant mushroom, the white color is swarthy," continued Sholdip.

The view is quite surprising Sholdip.
For the first time when the eruption occurred on Tuesday (26/10), there were no clouds bumbungan that high.

"I think it is high enough, the height can be up to 3 times the mountain itself. For even though the tall building was also hindered in plain sight," he explained.

Sholdip is currently en route from Solo to Yogyakarta.
Along the way, Sholdip see a car or a bus coming from the direction of Yogyakarta seemed shrouded in volcanic ash.

"My position now is to Klaten, and I see the car from the direction of Yogya was full of white dust," the story Sholdip.

Merapi erupting nonstop since Wednesday (3 / 11) yesterday until this morning.
"The eruption was the largest eruption since 26 October," said Head Vulkonologi and Geological Hazard Mitigation (PVMBG) Geological Agency
Ministry of Energy and Mineral Resources, Dr Surono.

Merapi pyroclastic ejected quite different this morning than usual.
Hot clouds move vertically with the height reached 4 thousand meters.

"Because at the peak of Merapi wind blowing hard yet, but seems inclined to the west," said Surono.

The wind causes the spread of volcanic ash up to Tasikmalaya and Ciamis in West Java.