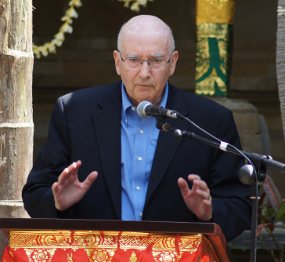 Ubud - Bali's fame as a tourist location has been taking care of foreign tourists who had come to a place nicknamed the Island of the Gods.
No exception figures of modern marketing Philip Kotler.

"I'll tell to my friends. As an ambassador of tourism," Kotler said in his speech that was greeted loud applause of hundreds of invited guests Marketing 3.0 Inauguration of the Museum in Ubud, Bali, on Friday (05/27/2011).

"Then you must be ready to face the new problems facing the people coming here," joked another.

The attraction of Bali has a lot to make a stranger happy to linger and not a few others decided to settle.
Not surprisingly, Kotler joke really should keep their families who participated with him in order not attracted Bali.

"I really have to keep in order not to fall in love with Bali and not go home," he said.

DG Marketing Nirvana Kemebudpar Sapta who attended the same event also welcomes feedback about the desire gastric Philip Kotler become Bali's tourism ambassador.
Sapta hope can be like a magnet Kotler people to tour the world famous Bali.

"Informing the celebrity world (to come to Bali-ed)," he said.

Sapta also welcome Kotler joked about his family 'threatened' charm of Bali.
This friendly guy grandchildren Kotler hope not only fallen in love with Bali, particularly Ubud.

"I hope your granddaughter fell in love with Ubud. Even falling in love with someone else," he added family light laughter that greeted Kotler.

Philip Kotler with his wife, children and grandchildren come to Bali to inaugurate a modern museum in Ubud 3.0 marketing.
The development of this museum could reap Kotler protest reaction from various circles.
They even created a group rejection in a number of social media.