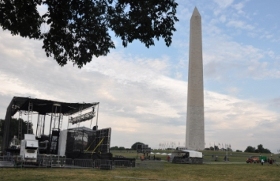 National Mall Washington DC ahead of Indonesia Festival 2011
Washington - The heavy rain which flushed Washington DC, July 8, 2011 this afternoon to make the atmosphere of the National Mall in the capital of the United States feels cooler in the summer.
Two stage stood at the foot of magnificent National Monument.

In stage two is the grand event Festival Indonesia 2011, tomorrow, July 9, 2011, will be held.
Small stage for performances Udjo Mang, artists specially invited by angklung Embassy in Washington DC, USA, to attend.
He will be leading the record-breaking number of players ever angklung version Guinness Book Of Records.

"Until now, the register has reached about 2600 people. Hopefully all who have signed up to all present," says the Press and Information Affairs Counselor Embassy in Washington DC, Heru Subolo.

In the arena tersebuy also present four personnel Elfas Singers are also invited to attend Embassy in Washington DC.
They are Yana Julio, Agus Wisman, Uci Nurul, Lita Zein recently in Washington DC that directly to the location of the event for the survey.

Besides Elfa's Singers, a celebration of Indonesian Festival 2011 will also feature guitarist and singer Denada Balawan.
To attract DC and surrounding communities presented guest stars pop music group from Australia, Water Supply, and R & B singer from Washington DC Grammy nominees, Raheem DeVaughn.

Festival Indonesia 2011 is the first biggest festival organized by the Embassy in Washington DC.
Participated in this festival is the BKPM, the Ministry of Trade, Ministry of Culture and Tourism, First Media, Yelp and supported by the TOP 1 Oil and Freeport Indonesia.

Not far from the event location which is right across from Capitol Hill, the Dalai Lama will hold the event "A Talk for World Peace" at 9 am, and in the central part of the National Mall, the day will be held the Smithsonian Folklife Festival.
This is an annual community festival.