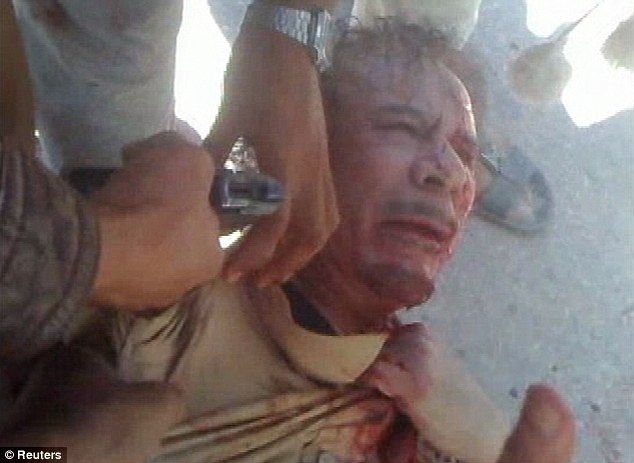 Instead of being buried or carried out the autopsy, the bodies of Gaddafi shown the citizens.
City residents line up to watch the corpse Misrata Moammar Gaddafi.
The body of former Libyan leader Muammar Gaddafi on display in a butcher shop in the shopping mall in the city of Misrata, Saturday (22/10) local time.
Hundreds of residents of the city was freed to see and capture Gaddafi remains that are left lying on a thin mattress. Gaddafi Photo Killed
Photo of Gaddafi's body is left with the condition only using brown trousers shown the citizens, and the long queues people curious to see and capture with their camera phones, photo below with his son's body.
Gaddafi Photo Killed

Some people perpetuate their former leader with a cellular phone.
Gaddafi family has reportedly requested that Gaddafi's body autopsied immediately to find out the cause of death.
So far it remains unclear when and where Gaddafi's body will be buried.
A senior official said the chances of Gaddafi's body will be buried on Sunday (23/10).
But the officials said, so far it does not plan mengotoposi Gaddafi bodies, as required by his family and among the international community, including the United Nations.

Gaddafi Photo Killed
Gun insurgents looks directed to the head shortly Gaddafi and blood was oozing from his head
Gaddafi Photo Killed

This demand was made to know exactly how Gaddafi died.
Has not been autopsied High Commissioner for Human Rights, Navi Pillay, for example, saying to do a thorough investigation of the cause of death of Colonel Muammar Gaddafi.

Navi Pillay's spokesman, Rupert Colville, described the video-tape showing the Libyan leader was still alive when first arrested-very annoying.
"It takes a lot more details to make sure he was killed in battle or executed after being captured.
Two mobile phone video footage that appears, the one she was still alive and the other one is dead, very disturbing. "

Gaddafi Photo Killed
When Gaddafi had just captured troops paraded and dragged NTC then stripped
Gaddafi Photo Killed

Colville added that the execution without trial prohibited under international law, whatever the situation.
Asserted that war crimes suspects or crimes against humanity even if-like Muammar Gaddafi-must be brought to justice.

Strong reactions also voiced various circles in the world to question the attitude of some of the NTC in Misrata forces which stripped and dragged the bodies of Gaddafi in the street, before or after he was confirmed dead.

In a videotape circulated seen Qadhafi then dragged by many people.
Her body was beaten as he pulled her hair.
Qadhafi head bleed so soiling his clothes.
A few moments later he digeletakkan on the ground in and stripped of clothing it in the dead, having previously heard the shot several times.

Muammar Qadhafi had requested that he not be shot dead.

According to international law, Muammar Qadhafi, including prisoners of war that should not be killed just like that.
He must be treated specially, to then be tried in court in order to account for the crimes charged against him.

Looking at the treatment of Qadhafi, as well as comments and information submitted maze rebel leaders linked the death of Qadhafi, like the National Transitional Council and its supporters want to get out of hand just like that of this problem