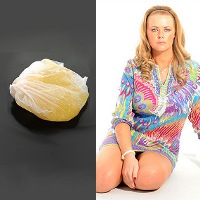 Merry Wahyuningsih - detikHealth

img
Lindsey Easeman (Photo: TheSun)
Merseyside, Many women who add to the confidence with silicone implant surgery on her breasts.
But with cheap silicon, a woman even get a catastrophe in the breast that broke up seriously ill.

For the sake of getting a swelled chest, Lindsey Easeman (27 years) looking utangan willing to pay for breast implant surgery.
The result was initially satisfactory breast size 36B to 36 DD.

But it was Lindsey's happiness did not last long.
Four years after surgery, the breast implant rupture and be fatal to him severe pain.

Lindsey is one of thousands of British women are lured by the promise of cheap breast implants offered by French companies PIP (Poly Implant Prosthese).

About 50,000 women in Britain have made breast implants by paying 3500 pounds ($ 49 million) or about half the usual price of breast surgery.

Reportedly 70 people have suffered like her sister because the implants rupture.

"I perform breast implant surgery in 2006 that the results look fantastic. But this past year, I often feel pain in the chest incredible," said Lindsey who lives in Kirkby, Merseyside, as quoted by The Sun, Friday (24 / 9 /
2010).

After more bodily pain and found a strange lump in his armpit, Lindsey went to the doctor and did an ultrasound scan.
Ultrasound results showed that the implant in her right breast had been broken and destroyed.

"Gel implants that leaked, causing a bump. My family and could only cry," said my sister further.

Lindsey said that the company has been promising implant leakage lifetime warranty.
However, in reality these implants have a high level of abnormal rupture.

In some cases, the outbreak of the breast implants have caused damage to the breast tissue, swelling and intense pain.

Long-term effects of implant rupture is not known with certainty, but its complications can include damage to the milk ducts and distortion (changes shape) very painful breasts.

Lindsey himself must lift implants as soon as possible and perform breast reconstruction surgery.

"I am a young girl. I can not deal with it and so depressed. This pain became increasingly because I was very depressed. The doctor even offered me anti-depressant medication, but I do not want it," said Lindsey.

But because they had no choice, Lindsey must be willing to perform surgery and is ready to owe more to cover operating costs.



(Mer / ir)
Labels: health