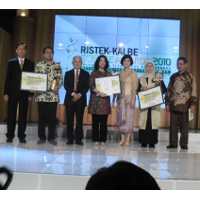 Peraih Ristek-Kalbe Award 2010
Researcher Indonesia Passion Large But Low welfare
AN Uyung Pramudiarja - detikHealth

img
Recipient of Research & Technology Award 2010-Kalbe
Jakarta, While rarely sounding echo, scientific research in Indonesia continues to grow, not least in the field of health.
Recipient of Research & Technology Award 2010-Kalbe assess arousal Indonesian researchers actually very big but unfortunately there is no recognition.

This was conveyed by Dr. Amarila Malik, Apt, MSI, the first winner-Kalbe Ristek Award 2010 shortly after receiving an award as the Best Researcher in the Four Seasons Hotel on Friday night (24/09/2010).

"We have interest in Indonesian researchers to conduct scientific research is large enough. In fact I myself who feel left behind from them," said Dr Amarila who claimed to have just began his research four years ago.

It's just that he recognizes there are several factors that often make the Indonesian researchers chose to move to abroad.
The low standard of living and lack of recognition is some of them.

"Several times I had experienced such temptation. But the family, my children made me able to survive," added Dr Amarila who teaches in the Department of Pharmacy, Faculty of Science University of Indonesia.

Especially since the last few years, the campus provides special allowances for faculty researchers.
For him this is one form of recognition that is needed by researchers to be more motivated.

Amarila Dr. Malik, Apt, MSI is one of the Nobel Research and Technology-Kalbe Award 2010 for Best Research category.
Similar awards given at 2 other senior researcher and a young researcher.

Here's the Kalbe Award-winning Research and Technology 2010:

Winner
Amarila Dr. Malik, Apt, MSI, UI Department of Pharmacy and Science
Title of research: 'Sucrase enzyme from lactic acid bacteria synthesizing exopolysaccharides and oligosaccharides of potencial use in pharmaceuticak applications: identification, isolation and characterization of sucrase genes
and enzymes, alucidation of EPS structures, and evaluiation of functional properties'.

Second Place
Prof. Dr. Elin Yulinah Sukandar, School of Pharmacy ITB
Title of study to: 'Development Fitofarmaka preparations.
The combination of turmeric and garlic extract as an antidiabetic and antihiperlipidemia '.

Third Place
Dr. Ahmad Faried, PhD
Research Title: 'Computer-aided system for measuring mandibular cortical widht on dental panoramic radiograph in identifying postmenopausal women with low bone mineral density'.

Best young researchers
Muhamar Dr Ali from the Faculty of Animal Husbandry, University of Mataram
Researching about the biochemistry of making the antibodies more quickly.

Research and Technology-Kalbe Award is an award given to best researchers Indonesia every 2 years.
This award is given by the Ministry of Research and Technology in cooperation with PT Kalbe Farma since 2008.

The number of researchers who apply research to be included in the assessment of carrying 151 people from various regions in Indonesia.
This number increased compared to 2008 that only 121 people.



(Up / ir)